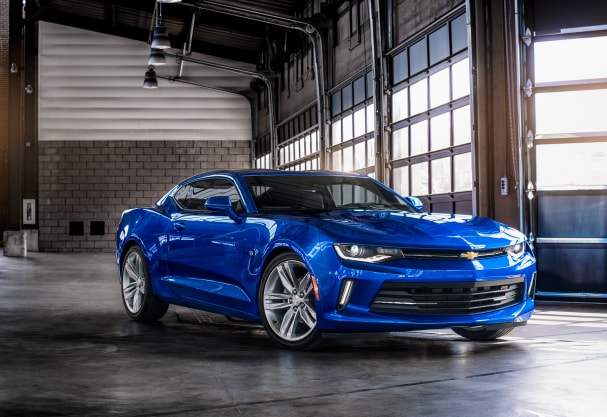 2016 Chevrolet Camaro Coupe
All-new, all Camaro
Designers were challenged to sculpt a modern Camaro body around a smaller, lighter architecture while respecting the predecessor's design. This allowed for a smaller, wider, more athletic Camaro shape. These tighter proportions in a sports car that shed up to 390 pounds translates into more responsive braking, better attack in and out of corners, and a noticeably more nimble performance. Tighter proportions also let the aggressive body features like the fastback profile and rear quarter panels become more pronounced, creating a road presence that's hard to ignore.
Power and efficiency without the sacrifice
The sports car's mass-savings allows the LT's standard turbo engine to put all of its 275 hp and 295 lb.-ft. of torque to work. Expect great efficiency plus surprising cornering and braking, and 0 to 60 manual time of 5.4 seconds
(5.5 automatic).
The LT1 V8 catapults the automatic Camaro SS 0 to 60 in 4 seconds (4.3 manual) with 455 hp and 455 lb.-ft of torque. With Direct Injection, Variable Valve Timing and Active Fuel Management™ (automatic), its efficiency is just as impressive.