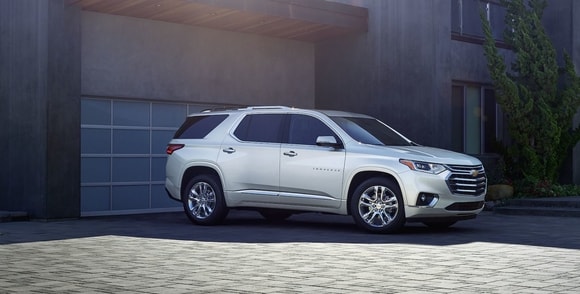 For American families, their iconic vehicle is the minivan. However, you'd be surprised; today, the minivan's market share is just two percent, and it's only declining from here on out.
Considering how many more cooler, sleeker cars are on the market, this shouldn't be too shocking.
Just because you've started a family doesn't mean you're doomed to purchasing a minivan. There are many other different family vehicles on the market, such as the Chevrolet Traverse.
Are you interested in hearing more about this crossover? Then keep reading. We'll tell you everything you need to know.
Available Trims
As with most other vehicles, the Chevrolet Traverse has a few choices available when it comes to the available trims. There are 7: L, LS, LT Cloth, LT Leather, RS, Premier, and High Country.
Of course, the L trim is the most basic one, which means it's also the most affordable one. You'll be able to seat 8 people, can only choose between black or white, and can only get it in front-wheel drive.
On the other hand, the most expensive and luxurious trim is the High Country. You'll get things dual sunroof panels and 20-inch alloy wheels.
In addition, this is the only trim that has adaptive cruise control. You'll also get an engine cooling system and a backup camera overlay.
The other trims have features like power-adjustable driver's seats, all-wheel drive, leather-wrapped steering wheels, a power-operated rear liftgate, driver-assist features, plus more exterior colors to choose from.
Make sure you ask your dealership for more details on each trim to see which one's optimal for you and your budget.
Solid Engine
The Chevy Traverse has a 3.6 L V-6 engine, which is capable of 310 HP and 266 lb-ft of torque. As you've seen from above, front-wheel drive comes standard with the most basic trim. However, you can always upgrade to all-wheel drive on the others.
Whichever you choose, you'll enjoy a 9-speed automatic transmission.
When you're on the road, the 2020 Chevrolet Traverse can go from 0 to 60 MPH in just 6.7 seconds. Considering that it's a family car, this is very impressive for its acceleration rate.
Decent Fuel Economy
When looking at cars to buy, an important thing you need to consider is the fuel economy. This will affect how much money you regularly spend in the future, after all.
For front-wheel drive, this vehicle gets 18 MPG in the city and 27 MPG on the highway. For all-wheel drive, it gets 17 MPG in the city and 25 MPG on the highway.
As you can see, these numbers are very decent, especially since the engine is one with power behind it.
Lots of Space Inside
Another important thing to consider is how much interior room you get with a car. This is especially true if you have a large family; you don't want to feel cramped whenever you're traveling around together.
The Chevy Traverse has three rows of seating. In the front, you'll get 41.3 inches of headroom. This goes down to 39.6 inches if you get a sunroof.
In the middle, you'll get 40.0 inches of headroom and 38.2 in the back.
In addition, there's lots of legroom. In the front, you'll get 41.0 inches, in the middle you'll get 40.0, and in the back, you'll get 33.5.
As far as the cargo room goes, you'll get lots of space too!
With all the seats up, you'll get 23 cubic feet to work with. If you fold down the last row of seats, you'll get 57.8 cubic feet of room.
For those who need plenty of storage space in the back, there's more. If you fold down the middle row of seats, you'll get a whopping 98.2 cubic feet in the back!
That's not it either. This vehicle has a compartment right below the cargo area floor where you can put smaller things in. In addition, there's a cubby behind the infotainment system, where you can store even more items.
There will be plenty of space inside for not only you and your passengers but also your belongings.
Chevy Traverse Safety Features
First of all, you'll be pleased to know that the 2020 Chevrolet Traverse has received five out of five stars for its overall safety rating from the NHTSA. It got four stars for its frontal star rating, five for its side star rating, and four for its rollover star rating.
Also, the Chevy Traverse has quite a few safety features in its optional packages. They include blind-spot monitoring, automatic emergency brakes, rear cross-traffic alert, forward collision alert, and lane-keep assist.
What's great is all trims come standard with Teen Driver mode. This lets you set a speed limit for your teenaged kids who drive. It also lets you see their driving behavior so you can rectify any unsafe habits.
Other safety features include Buckle to Drive (you can't shift out of park if you haven't buckled your seatbelt) and OnStar.
Great Infotainment System
All trims come standard with a 7.0-inch infotainment system. It accommodates both Apple CarPlay and Android Auto and has six USB ports.
If that's not enough for you, you can always upgrade. You can get an 8.0-inch infotainment system with much better resolution, as well as navigation features.
Another optional upgrade you can get is two 8.0-inch displays for the middle row. These can pair with wireless headphones.
Get Yourself a Chevrolet Traverse Today
Now that you've learned everything you can about the Chevrolet Traverse, doesn't it sound like the perfect vehicle for your family?
With its great engine, MPG, interior room, and numerous safety features, it's a fantastic car to consider. And with all its choices in trims, the 2020 Chevy Traverse definitely has an option that's perfect for your household.
Would you like to test drive a Chevy Traverse? Then get in touch with us. We'll be more than happy to help you with your purchase.