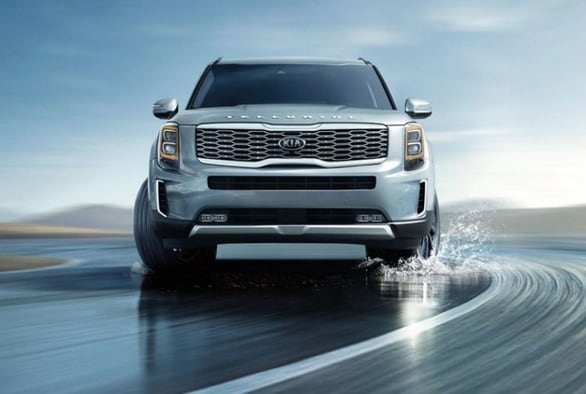 Kias are reliable, well-made, and boast the 2020 Motor Trend SUV of the Year!
They've made it to the top 10 list of most reliable car brands. They've upgraded their look, putting out everyday cars with a luxury appeal. They provide performance, features, and comfort that rivals car brands costing tens of thousands of dollars more.
So, reliability aside, they're also incredibly affordable.
This year's Kia Telluride is no different, either. It's bold, it's functional, it's decked out with everything you need (and more). Riding around in style doesn't have to mean breaking your bank account.
Here, we highlight what you need to know about the 2020 Kia Telluride, so you can understand why people call it the "best SUV in its class for the price." Buckle up!
2020 Kia Telluride: Features, Functions, and More
Did you know the Kia Telluride was named the 2020 MotorTrend SUV of the Year?
Seven out of 11 judges gave it first-place votes for a variety of reasons—design, engineering, efficiency, safety. To earn this accolade, a vehicle gets judged in an exhaustive process encompassing six categories. So, to win, a car has to be well-rounded.
That's what you can expect with this spacious SUV.
General Specs
Here are some go-to talking points when looking for a new vehicle:
· What's the fuel economy? 19 MPG in the city and 24 MPG on the highway
· How many does it seat? A whopping seven passengers
· Transmission? 8-speed automatic
· What's the drivetrain? All-wheel drive
· The engine is a 3.8 L6
Features
Here's a brief overview of what you'll find in the Telluride:
· Navigation system with a 10.25" touchscreen display
· Leather interior
· Blind spot sensor
· Lane departure
· Power moonroof
· Emergency communication system
· Automatic temperature control
· Distance-pacing cruise control
In this model's creation, nothing was spared, with everything focused around convenience and practicality.
Speaking of convenience—the Telluride offers everything you'd expect in this digital age:
· 1-touch down and 1-touch up
· Auto-dimming review mirror
· Telescope steering wheel
· Memory seat
· Front and rear beverage holders
· Remote engine start
· Proximity keyless entry
· Heated seats
· Front and rear door bins
With the room for seven passengers, your SUV will never feel crowded.
There's plenty of spaciousness to be had—let's touch on that, and its other design features, next.
Design
The design of the Kia Telluride is a harmonious balance of pragmatism and spaciousness.
This is Kia's most considerable SUV. Because of this, the exterior is decked out with a large, confident grille and tucked-away headlights that don't impede on the front overhang.
The inside is just as substantial as the outside and comes with quite a sophisticated look. Besides its smooth leather interior, it boasts plenty of seating (with legroom to boot), expertly-located seat-fold buttons and handles, and USB ports in all three rows of the vehicle!
Even the second row gets a taste of the greatness with heated and ventilated seats.
Of course, these are all the standard features. Anyone looking to upgrade their model should know that 20" alloy wheels, satin chrome highlights, and LED and fog lights are available.
Safety
It doesn't get much safer than the Kia Telluride. Their innovative safety technology has thought of things we may not realize we even needed.
For example, the vehicle can detect the weight of a rear passenger. If a passenger is in the rear cabin, and the driver leaves the SUV, they'll get a notification on their phone. This ensures no one gets left behind, no one uninvited gets in, and everyone is safe.
In addition to this rear occupant alert, there's also a remote door lock/unlock and a Find My Car feature.
When it comes to driving, safety innovation doesn't stop. Drivers can expect:
· BVM, or Blind Spot View Monitor — Shows a continuous live feed of your right rear blind spots
· Blind Spot Collision Avoidance Assist-Rear, which keeps you on your course if an object is detected in the lane you're merging onto
· HDA, or Highway Driving Assist — Matches speed of changing speed limits while on cruise control, and matches the speed of the vehicle in front of yours
· SEA, or Safe Exit Assist — Can override attempts to open the vehicle by deactivating the child safety lock if it's unsafe for rear passengers to open the door (such as an oncoming vehicle)
· RCCA, or Rear Cross-Traffic Collision-Avoidance Assist, which scans for obstacles when backing up, and provides audio and visual alerts. It can also provide braking intervention if necessary
· A Surround View Monitor (SVM) that provides a bird's-eye view of your vehicle using four exterior cameras when attempting to park
This beautiful balance of active and passive safety features make the Telluride an excellent vehicle for all drivers, passengers, and even others on the road.
Efficiency
The Kia Telluride may look large and in charge, but manufacturers splurged on expensive but lightweight material when making it. This allows it to have a right-on-par fuel economy for an SUV of this stature.
Additionally, the Telluride can tow up to 5,000 pounds, has on-demand All Wheel Drive, and even a self-leveling rear suspension available.
Are You a Candidate for a New Car?
Are you convinced the 2020 Kia Telluride is for you? With unbeatable safety features, impeccable design, and a brilliant efficiency, it's no wonder it's caught your eye.
At Serra of Jackson, you can expect one location with so many choices. The Kia Telluride is one of them.
We'd love to get you into a new-to-you vehicle of your choice. Our current Telluride selection has less than 6,000 miles on it! It's nearly fresh from the manufacturer, boasting that new car smell we all know and love.
Contact us today

or visit our Jackson, TN, location for all our offerings. We take care of all your auto financing needs, whether you're buying or leasing, or looking for new or used. Whatever you choose, we have the financing for you!